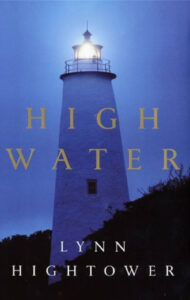 High Water
Beaufort, South Carolina: When the matriarch of the Smallwood family dies of mysterious causes, everybody in town has their eyes on the widower. An ex-marine involved in a local scandal years before, Fielding Smallwood is known as a fierce man with a powerful sense of discipline. He was neglectful of his wife and three children, including Georgie, the youngest, who is convinced her father is the killer … until another tragedy occurs and her sister Claire becomes a prime suspect. Now it's up to Georgie to find the evidence needed to clear her sister's name—even if what she discovers threatens the survival of the only family she has left.
Lynn Hightower entwines deadly deceptions and startling revelations in this rich, intricate work of suspense.
"High Water is a lyrical, compelling novel about secrets, family, and even love." —Lisa Scottoline.
"A dynamite tale of family fallout, mystery and intrigue, southern-style. Demands to be read in one all-night page-turning frenzy." —David Baldacci
"This intensely involving study of family dysfunction … is distinguished by its driving prose, lyricism, and psychological nuances."—Publishers Weekly