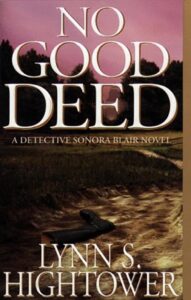 No Good Deed
It happened in broad daylight…
The pretty fifteen-year-old had saddled up for an afternoon ride and never come back.
She was gone. So was her horse. Left behind was a splintered fence. The tracks of a pickup truck. A discarded riding boot. And a great deal of blood.
As a mother herself, Cincinnati detective Sonora Blair knew she was looking at a parent's worst nightmare. As a homicide cop, she tried not to think about what might be happening to the young girl right now … or what the police would find if they didn't get to her in time.
But nothing in Sonora's experience could prepare her for the chilling revelations that would emerge from this case … or for the truth about other missing children, a lover's betrayal, and another unthinkable crime. 
"Genuinely fresh and exciting." —Observer
"Powerful, crisply paced."—Publishers Weekly
"Sharp, shocking, and shamelessly satisfying." —Val McDermid
"Like her heroine, Hightower is a pro who knows how to get the job done." —Los Angeles Times